Welcome to a special FREE PREVIEW of Traffic Advantage. Each week we use Moneyball tactics to discover mispriced, undervalued, and hidden gem content websites. ​​
This issue is usually for paid members only. But this week it's free to everyone. 
Want more? Get a 7-day free trial.
This week we have an awesome issue, including a political site with massive traffic that is both severely under-discovered and underpriced! 
I've also got some interesting updates from last week, along with a fun analysis of my new PPPA metric.
Updates from last week
All three sites I featured last week have sold!
I was a bit nervous about the Target Price metric after a big miss a few weeks ago that left my head shaking. But this week proved I am on the right track, as not only did all three featured sites sell, but two sold for under the target price — and one came within 5%!
First, atchuup.com sold for $13,500. While it was good to see this pick sell so quickly (just a day after I featured it!) my target price was $7,590, and I think the buyer overpaid on this one.
Next up, aeroflydrones.com sold for $32,000, which was under 5% of my target price! This site was the perfect example of a well-oiled machine. We didn't know the reserve, but I noted anything below the target price of $33,368 was a good deal. A buyer negotiated it for $32,000, and I think he got a good deal.
The other drone review site, dronersguides.com also sold this morning for $4,500. My target price on this was $5,253, so the winning bid came in under 15% of the target price. Way to go!
I feel like Nate Silver! (Errr, okay, maybe that's not the right comparison…) But still, it feels good. 😃
Recent FAQs
Here's a recent questions I've received.I've noticed many of the sites you feature are international sites. Why is that?
I've noticed that as well! It's not intentional — remember, I let the math speak for itself, and work backwards from there. But I have a few guesses as to why this might be the case:
International sites are often overlooked. Ever since introducing the Popularity metric, I've noticed that international sites tend to have less eyeballs & activity than other sites, which gives them a nice low popularity score. This makes sense, as sites written in another language can easily scare off would-be investors who don't want the burden of owning a site that's not in their mother tongue. I think the trick here is to find international sites that are still in English (of which there are plenty!)
International sites often don't use the best ad networks. I've also noticed that international sites are using AdSense to monetize, instead of networks with better RPMs, such as Ezoic, AdThrive or Mediavine. This is leaving money on the table, and leads to lower RPMs, EPMVs, ETFUs, and better opportunities for a new owner.
​
An analysis of PPPA
As you may remember, last week I began experimenting with a new metric: PPPA.

This is a new derivative metric of the Authority Score. It stands for Price Per Point of Authority. It's the cost each Authority Score point, expressed as a dollar amount. If a site has a PPPA of $137, that means you are essentially paying $137 for each point of authority score. The formula is (Asking Price) / (Authority Score). As is often the case, it's not the dollar amount that matters here, it's how that dollar amount compares to other sites.
This week I figured I'd do some deeper analysis on this new metric, to better understand the median benchmarks by niche and decile.
Median PPPA by niche
Over the past 6 months, the median PPPA for content sites across all niches is $69.41. However, this varies quite a bit across niches.
The niches with the highest median PPPA are Sports ($102.25) and Electronics ($100.83).
This means that buyers of sports and electronics sites are willing to pay the most per point of authority score. And since buyers are willing to do this, it also implies that a) the authority score means more in these niches, and/or b) ranking a site is harder in these niches than others.
Converseley, the niche with the lowest median PPPA is Design & Style ($26.12), implying the authority score doesn't mean as much in this niche, and/or ranking a site in this niche is easier.
Median PPPA by decile
I also looked at the median PPPA by authority score decile. I assumed the higher a site's authority score, the higher the PPPA, but I wanted to understand what this looked like.
It turns out there is a general linear rise until you hit the 40-49 decile. At that point things start to really jump.
0 to 9: $49.75
10 to 19: $36.75
20 to 29: $52.00
30 to 39: $81.58
40 to 49: $279.11
50 and up: $264.42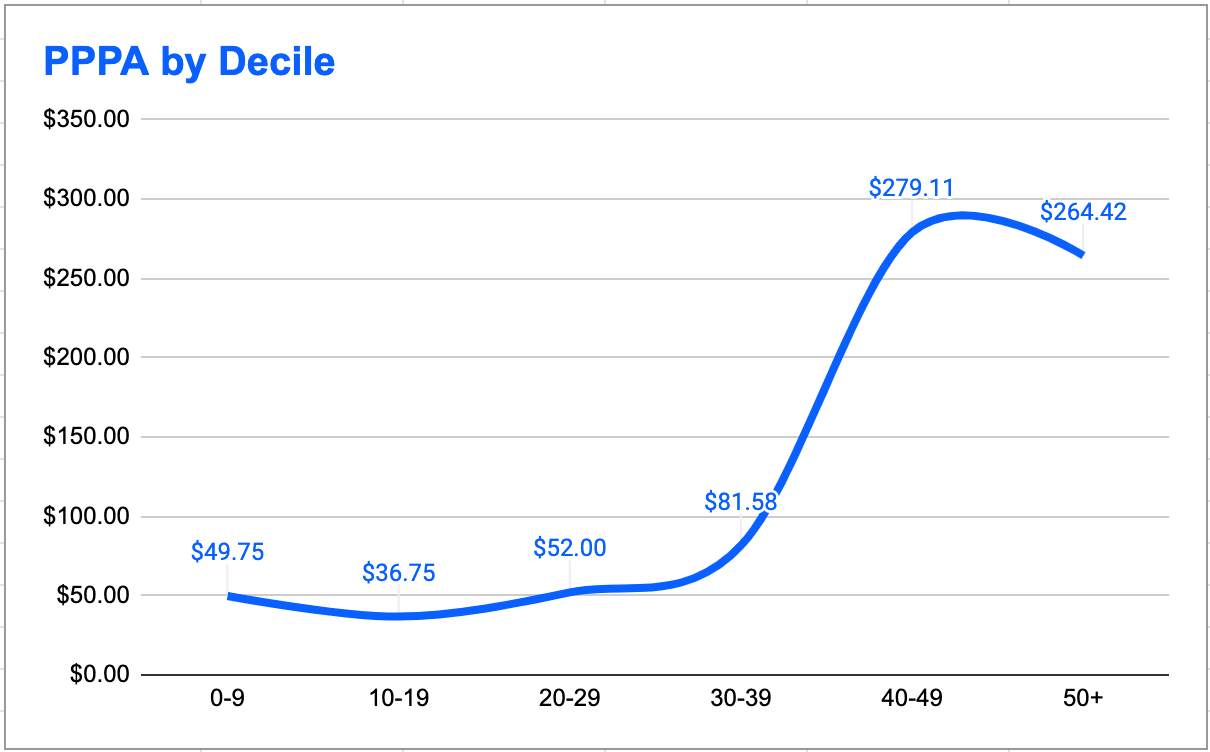 While there's no exact definition of what makes a "very good" authority score, I've always pegged it around 45 and up. So it's interesting to see the big jump occur in exactly this decile.
---
​
This week's picks
Here are this week's top picks. ​
🇺🇸 Pick #1
The first pick this week is dailysoundandfury.com, a left-wing political site which is the perfect trio of high traffic, under-discovered, and underpriced — pretty much everything Traffic Advantage is all about.
Summary
Net profit/month: $2,917
Pageviews/month: 735,824 (!) Down from some huge months but now flat and still very high.
​
What makes this special?
One of the highest-trafficked sites I've ever featured. Averages over 3/4 of a million pageviews per month.
Very high authority score (50) – really excellent for a 4-year old site
EPMV is right in line with benchmarks. Site is earning money as it should via well-diversified sources of revenue
Politics is an evergreen niche. Even with Trump out of office, interest & clicks in politics shouldn't slow down too much.
Site includes 10k email addresses, and 40k Facebook followers.
29% of traffic comes from email, which is an underrated and typically under-utilized source of clicks and revenue.
Site is undervalued and under-discovered (just 5 watchers as of this writing!) We don't know the reserve, but the minimum bid is too low to begin with.
Even at the Target Price of $9ok, the numbers still look good. If you can negotiate this for $75k – $85k you've got a winner.
---
📺 Pick #2
Next up we have traigotucompra.com. This isn't really a content site, but it's got free traffic and that traffic is underpriced. That's all you need to know.
Summary
Net profit/month: N/A
Pageviews/month: 13,091
​
What makes this special?
This isn't a strict content site, it's more of a marketplace with a quite interesting business model.
This site is claiming over $1,000/month in revenue, but only asking $2,500 as a buy-it-now. So something really weird is going on.
I don't actually care what's up with the revenue claims, and am judging this site on pure traffic alone.
My guess is that revenue is near what the seller claims, but advertising costs are far, far higher than advertised.
Regardless, the site still has value based on traffic alone. The PTFU is very good for the niche. Solid engagement (pages per session)
Assuming revenue is zero (a very conservative assumption), and the ETV is still nearly $1,000 higher than the buy-it-now price, meaning this is an easy pickup based on traffic alone
Any ancillary revenue this site has is icing on the cake. And the low popularity means you can probably get it for even less than the buy-it-now price = even better.
---
🦠 Pick #3
The third pick this week is antivirus.best. I usually don't like .best domain names, but the metrics on this one are solid.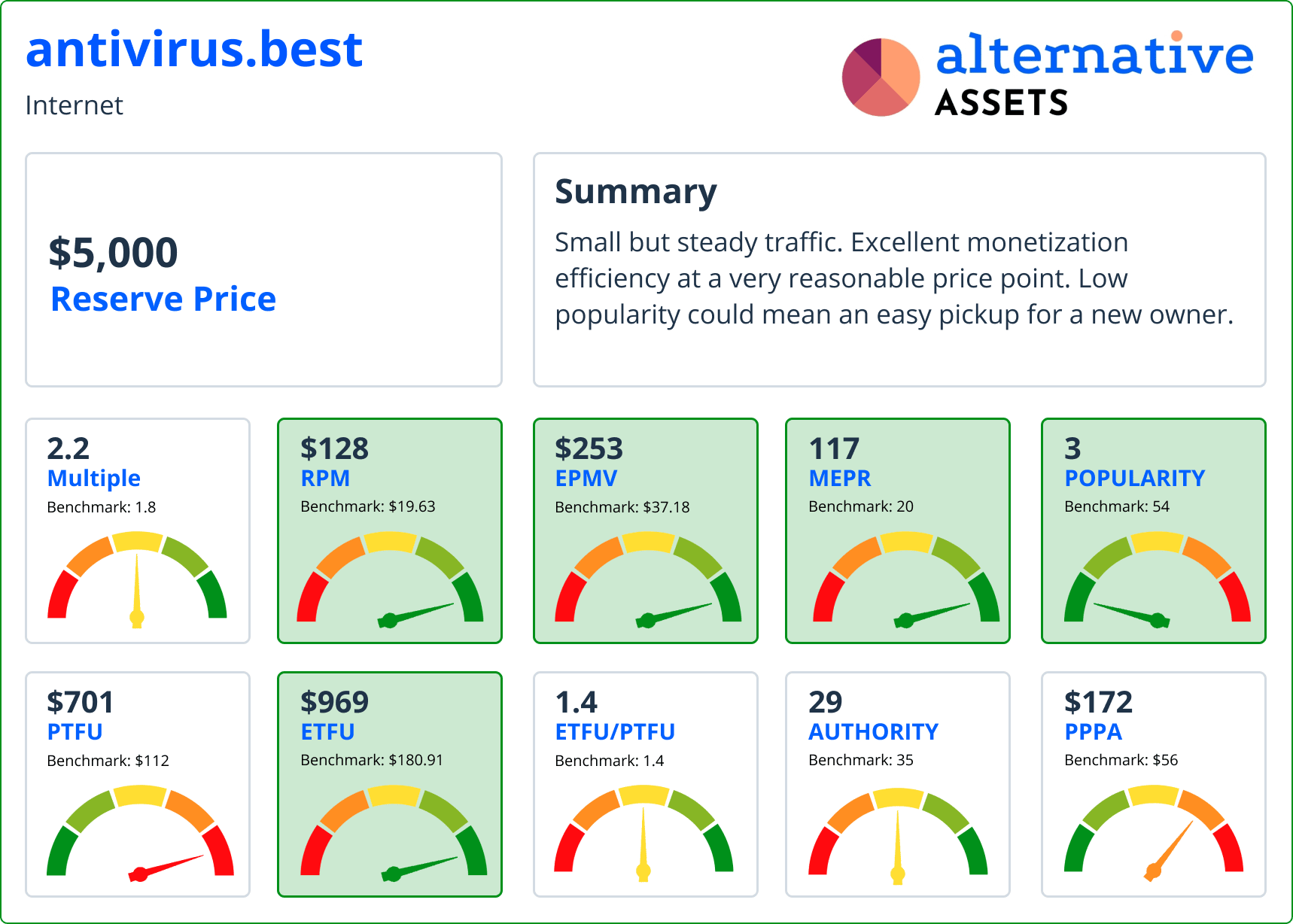 Summary
Net profit/month: $192
Pageviews/month: 1,498. Flat as a pancake.
Reserve Price: $5,000
​
What makes this special?
I almost missed this one, but the monetization efficiency is very good!
RPM, EPMV, and MEPR are all through the roof. Antivirus affiliates tend to pay very well.
The site doesn't have much traffic, but it's steady and gets converted into revenue quite nicely.
Organic traffic and authority are solid, bounce rates are normal.
Extremely low popularity. This one is way under the market's radar, and will make negotiations easier.
Nothing terribly exciting about this site, but if you can get it for the reserve price of $5,000, it's disproportionally high performer.
Risks & Due Diligence Tips
Be sure to get proof of financials (the seller hasn't provided any yet)
Get a good understanding of where the revenue comes from (affiliates vs sponsored posts)
Also be sure to make sure there are no penalties from Google. Usually I wouldn't be concerned about this, but the seller freely admits he does a lot of sponsored posts, which if done improperly can be a google penalty waiting to happen.
---
🍔 Pick #4
The third pick this week is eatcheap.app. This site includes a mobile app, which adds to the monetization efficiency and makes for a well-priced set of assets.
Summary
Net profit/month: $188
Pageviews/month: 4,469. Bouncy.
Reserve Price: $2,999
​
What makes this special?
An interesting "2 for 1" site that includes a mobile app and proprietary/custom-built CMS (Admin portal)
Excellent monetization efficiency. This is certainly helped by the mobile app — but so what! The final price for the asset (or assets, in this case) is what matters
The ETFU/PTFU ratio that is well above the benchmark, which is rare.
Oddly high buy-it-now price given the low reserve. Likely a seller tactic to imply value and boost the price. Ignore this.
This listing is undervalued by 53% based on its reserve relative to the Target Price.
However, due to the uniqueness of the assets and listing, as well as the high popularity, I think this one will go for well above the reserve price.
This one is priced to sell, and rising in popularity. You'll have to fight for this one. Get in early, negotiate hard, and you might just get lucky.
---
Due Diligence
That wraps up this week's picks!
​Remember to do full due diligence before purchasing any site. I created and run Flippa's Due Diligence program, and would be happy to offer the same service to you.
---
How'd you like this issue?
✅ Helpful, thanks!

❌ Not helpful
---
Resources
Members get access to all issues. Just use your password to get access.​
---
Disclaimer
All formulas, metrics, derivatives, calculations, and opinions are my own. They are not endorsed by and do not necessarily represent the opinions of Flippa Pty Ltd.